The IMS Facilities Manager will take the "confusion" out of scheduling rentals of multiple city-owned facilities. Users can see at a glance in a calendar format what facilities are rented and for what purpose. Scheduling conflicts are avoided automatically. Users can schedule a facility for an extended time based on a pattern, such as the second Wednesday of the month, or on a particular day of the month over any period of time. The program will track all fees collected by date. Fees tracked include deposits, daily rental, setup fee, security, other and tax. Taxes can be calculated or exempt for any facility.

Included are built-in reports such as the Events Schedule - a report that lists all events scheduled in a specified date range; a Building Rental Receipts Report - detailing for the user by receipts date and facility all monies paid, for which event; A Revenue by Facility Report - detailing the facility, fees, taxes and Total Revenues collected for each Facility for a particular time period; and a Building Rental Receivables report, which allows users to select each Facility and details for that facility by date the rent, payments, balance owed, and event.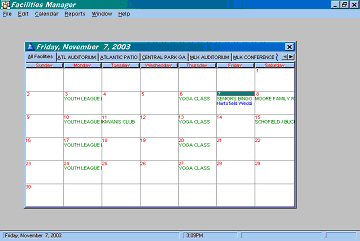 Scheduled Events are viewed on the calendar - color-coding depicts events that are partially paid (blue) or paid in full (green) or unpaid events (red).


---

Reports can be viewed on screen prior to printing, and all reports print to windows compatible printers.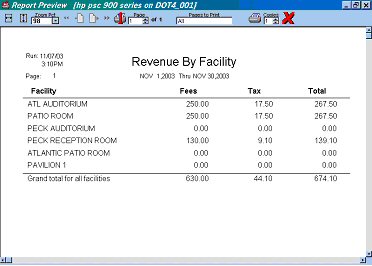 The Facilities file makes it easy for the user to select a facility, view any scheduled activities for that facility, and schedule a new event for the facility. All fees, deposits and taxes are automatically calculated for the user based on the facility rates.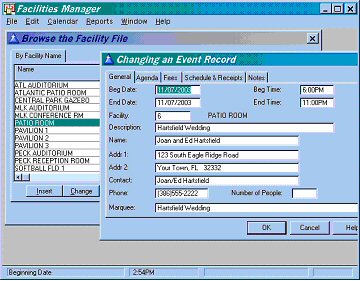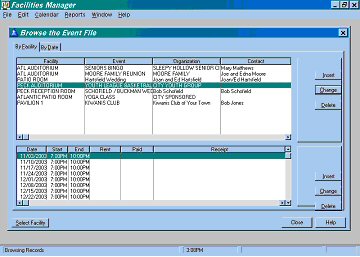 The Event file gives users a quick overview by Facility what Event is scheduled for a particular facility, and recurring dates, rent and payment information are displayed.
The program is designed to give users quick access to a variety of information pertaining to Facilities, Events Scheduled, Receipted monies collected and Receivables due.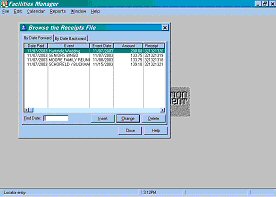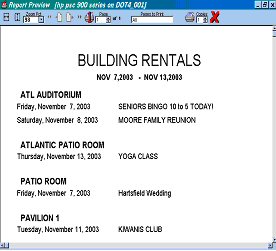 The Facilities Manager will track all scheduled events whether single day, weekly or monthly, and tracks upcoming events, for any number of facilities managed by your municipality. All receipt and receivables information can be easily viewed or produced in reports. The easy to use program can take the chore out of facilities rental and reporting.