The most flexible and versatile billing system available at any price, the IMS Utility Billing system can serve both private and public utility services. The system is easy to use for the smaller customers with only a few hundred accounts, yet powerful enough to handle large customers with many thousands of accounts. There is no limit to the number of customers the system can handle.
Utility Billing can bill many metered services, including water, sewer, electric, or gas, as well as any additional charges that your service bills – such as pest control, late fees, or assessments.
Standard billing forms (both laser bill cards and laser letter statements) are included with the program. Custom bill forms can be created for an additional charge. A new module offered will print the POSTNET Bar Code on letter laser statements, a great cost saver for large mailings.
The IMS Utility Billing system interfaces with many handheld meter readers, for quick meter reading data entry and provides report generation of this data.
Backflow Prevention data such as inspection history, inspector information, and letter generation is another module available with this program.
Customer accounts can be set up with direct debit billing and transfer data directly to your bank.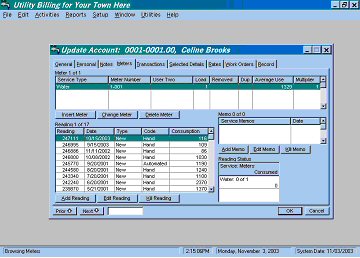 Meter readings and monthly consumption can be viewed, and users can make adjustments to readings with the proper Security Access.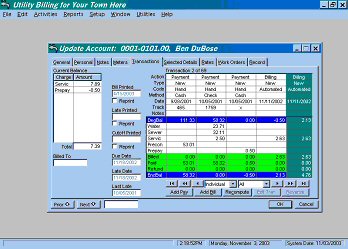 Users can view billing and payment history on each customer account
Users can quickly see account status when browsing the license window – color-coding schemes as selected by the user are used for defining delinquent accounts (red) and vacant accounts (purple).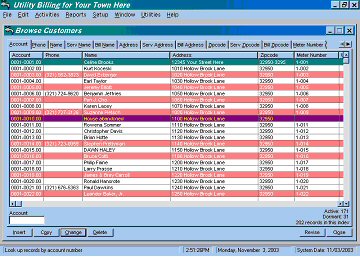 Account number, service name or address, billing name or address, phone number, social security number or more, can be used to locate a customer account.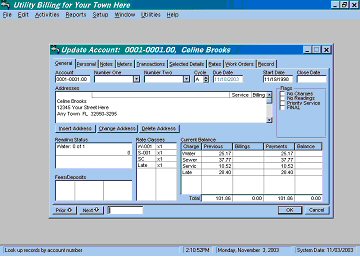 Customer account information and charges due are viewed on the first page of an account, and subsequent pages allow viewing meter history, notes, personal data, work orders and transaction history.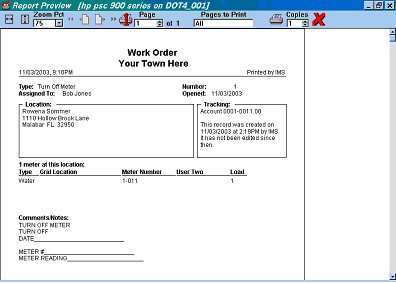 Work orders created by the system provide account data
Meter information is stored on each customer account in an easy-to-read screen. Past meter information and history as well as current information can be stored. Average use is determined monthly.
The Receipt system works in tandem with the IMS General Ledger, by allowing the transfer of receipted monies. This system can also work with your receipt validator/printer and cash drawer.
Deposit information is stored on each account, interest can be applied to these deposits, and reports run on deposit information. The system will generate refund checks. Users have an option to apply interest calculated or refund amounts to the customer account balance.
There are many more features, too numerous to list in this brochure that make this software the answer to your billing and receivables needs.